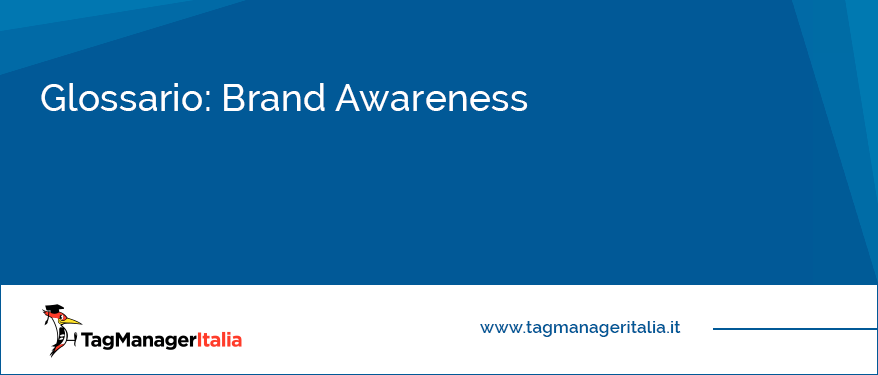 Di solito su Tag Manager Italia affronto argomenti molto tecnici. Ogni tanto però ci tocca parlare in gergo "markettaro" 😀 anche questo è utile! 😉
Stavolta ti spiego cosa è la Brand Awareness.
Nessuno ha ancora capito come si pronunci esattamente Awareness (auorness? auerness? Se tu lo sai, lasciami una nota audio fra i commenti, grazie 😀 ). Ma al di là della pronuncia cerchiamo di capire esattamente di cosa si tratta.
"Awareness" in italiano vuol dire "Consapevolezza". La Brand Awareness non è altro che la consapevolezza della marca nella mente dei consumatori. La conoscono? La riconoscerebbero vedendola? Sarebbero capaci di associarla a ciò che vendiamo?
In italiano il termine equivalente, se proprio non ti piacciono gli anglicismi, sarebbe "Notorietà di marca".
La Notorietà di Marca può essere anche misurata: ci sono vari stadi. Un tale di nome David Aaker ha inventato la Piramide della Brand Awareness (conosciuta anche appunto come Piramide di Aaker).

In questa piramide, si parte, in fondo, dallo stadio di assenza della conoscenza della marca ("Unaware of the Brand"): vuol dire che i consumatori non sono minimamente a conoscenza del brand, di chi sei e di che cosa vendi (no buono).
Proseguendo troviamo la conoscenza superficiale della marca ("Brand Recognition"): è già un passo in più, almeno non ti trovi nell'anonimato più totale, ma si può fare di meglio!
Salendo in su nella piramide abbiamo la conoscenza forte ("Brand Recall"): siamo già in una fase di conoscenza attiva della marca.
Alla fine in cima si arriva al "Top of Mind", lo step che tutti gli imprenditori si augurano di raggiungere: il nostro brand è il primo a venire in mente al consumatore quando si pensa a una determinata categoria di prodotti o servizi. Un sogno, no? 🙂
Spesso si parla di Brand Awareness, o meglio dello stadio di Brand Awareness, intendendo quel delicatissssimo (e difficile) momento in cui un'azienda dovrebbe passare dall'anonimato ad essere conosciuta/riconosciuta dal consumatore.
In questo caso si fa riferimento al Funnel di Marketing e al Modello AIDA.

In questa rappresentazione, la fase dell'Awareness è il primissimo stadio in cui il consumatore non ci conosce (ancora).
Se riusciamo a far breccia nella mente e nel cuore del consumatore, possiamo accedere alla fase di "interesse", di "desiderio" e infine di "azione".
(Parlavo del modello AIDA anche a proposito di Customer Journey, ti ricordi?)
Ci sono anche tante altre versioni del funnel, ad esempio:
Awareness – Consideration – Intent – Purchase – Loyalty – Advocacy
Awareness – Interest – Consideration – Intent – Evaluation – Purchase
Ci sono tante interpretazioni (e rappresentazioni) del percorso di acquisizione di un cliente, ma tutte partono bene o male dall'Awareness, ovvero dalla fase di non-consapevolezza del nostro brand 🙂
Che non è un problema da poco! Se consideri tutta la concorrenza che c'è là fuori, e la sovrabbondanza di messaggi pubblicitari, a volte uscire dall'indifferenza della gente non è che sia proprio così facile…
Questo non vuol dire però che sia impossibile! Esistono tecniche di advertising particolarmente indicate in un fase di stimolazione dell'Awareness, sia online che offline. Fra quelle online più comuni ad esempio troviamo tipicamente i Facebook Ads, la Pubblicità Display), ma non solo. Ci possono essere soluzioni più fantasiose e creative…. non c'è solo un modo per uscire dall'Unawareness.
E tu, ce l'hai fatta a far conoscere il tuo Brand o quello dei tuoi clienti? 😀 Raccontami come hai fatto!
Hai ancora qualche dubbio?
Chiedi pure qui sotto, sarò pronto a risponderti!